Skip to product information
Media gallery

Media gallery

Media gallery

Media gallery

Media gallery

Media gallery

Media gallery

Media gallery

Media gallery
Heal-at-home ear care+
From muddy playtimes to splashy swims, our Heal-at-home ear care+ is the perfect solution for keeping your pet's ears squeaky clean! Our formula zaps bacteria and yeast while easing pain and inflammation. BONUS! It works wonders on breeds with some extra skin on their face to keep all those cute crevasses germ free.

🐾 non-toxic and lick safe
🐾 reduces ear odors
🐾 relieves itching and irritation
🐾 no stinging or burning
🐾 no alcohol or steroids
🐾 kills bacteria, yeast and fungi
🐾 safe for cats and dogs

Regular price

Sale price

$36.00

Unit price

per
Description

Whether your pet is going face first into the dirt or paw first into the pool, our Heal-at-home ear care+ is the perfect solution for keeping your pet's ears squeaky clean. Free from harsh chemicals, fragrances, and dyes, its pH-balanced formula sneaks into all the curves and crevasses of our 4-legged besties to do what we need it to: clean! Our main ingredient of hypochlorous acid zaps pesky bacteria, yeast, viruses, and fungi while easing pain and inflammation. Shake before use, spray as needed, and watch it work! Your pet may wind up to shake off dislodged debris as they feel it loosen.
Ingredients

Electrolyzed Water, Sodium Chloride, Hypochlorous Acid 0.02%,
Phosphates, Sodium Hypochlorite

Uses

• use for cleaning and disinfecting your pets ears to kill bacteria, viruses, yeast and fungi
• use to clean facial folds for breeds like pugs, frenchies, and bulldogs.
• use to reduce ear and face odors.
• use to soothe irritated and inflamed ear tissue, skin and fur, reducing discomfort and pain.
• use to preventively fend against future ear infections, especially after a day of swimming or playing in the mud.

Directions

Ear cleaning:
• shake well before use
• hold the tip of the ear and spray product into the ear canal, filling it completely.
• put the bottle down and massage the vertical ear canal (the firm structure leading from the ear opening to the floor approximately 1-3 cm).
• you may notice debris coming up out of the ear opening. Step back and let your pet shake their head to remove the excess fluid and dislodged debris.
• clean the opening of the ear canal with a clean dry washcloth.
• repeat if there was a large amount of debris until the ear canal is clean.
• use several times a day as needed.

Facial fold cleaning:
•shake well before use
• spray product to saturate the area of skin and fur where there is a yeast like (bad) smell or yellow orange discoloration.
• wipe area clean with a clean washcloth.
• alternatively, you can saturate a clean washcloth with heal-at-home ear care+ and use moistened washcloth to clean the affected area.
• repeat as needed.
• for significantly affected areas, we recommend daily cleansing for 5 days, then use as needed.
• for very inflamed areas (red and tender, typically with some hair loss), be gentle when wiping to prevent removal of external layers of skin or causing sore.
• when cleaning areas that are infected due to poor air circulation like skin folds, we recommend drying the areas very well after to prevent regrowth of yeast, fungi and bacteria.

Warnings

FOR EXTERNAL USE ONLY
• For animal use only. Not for human use.
• If condition persists or worsens for longer than 7 days, contact your veterinarian .
• Discontinue use if irritation develops.
KEEP OUT OF REACH OF CHILDREN.
If swallowed by child, get medical help or contact poison control centers immediately.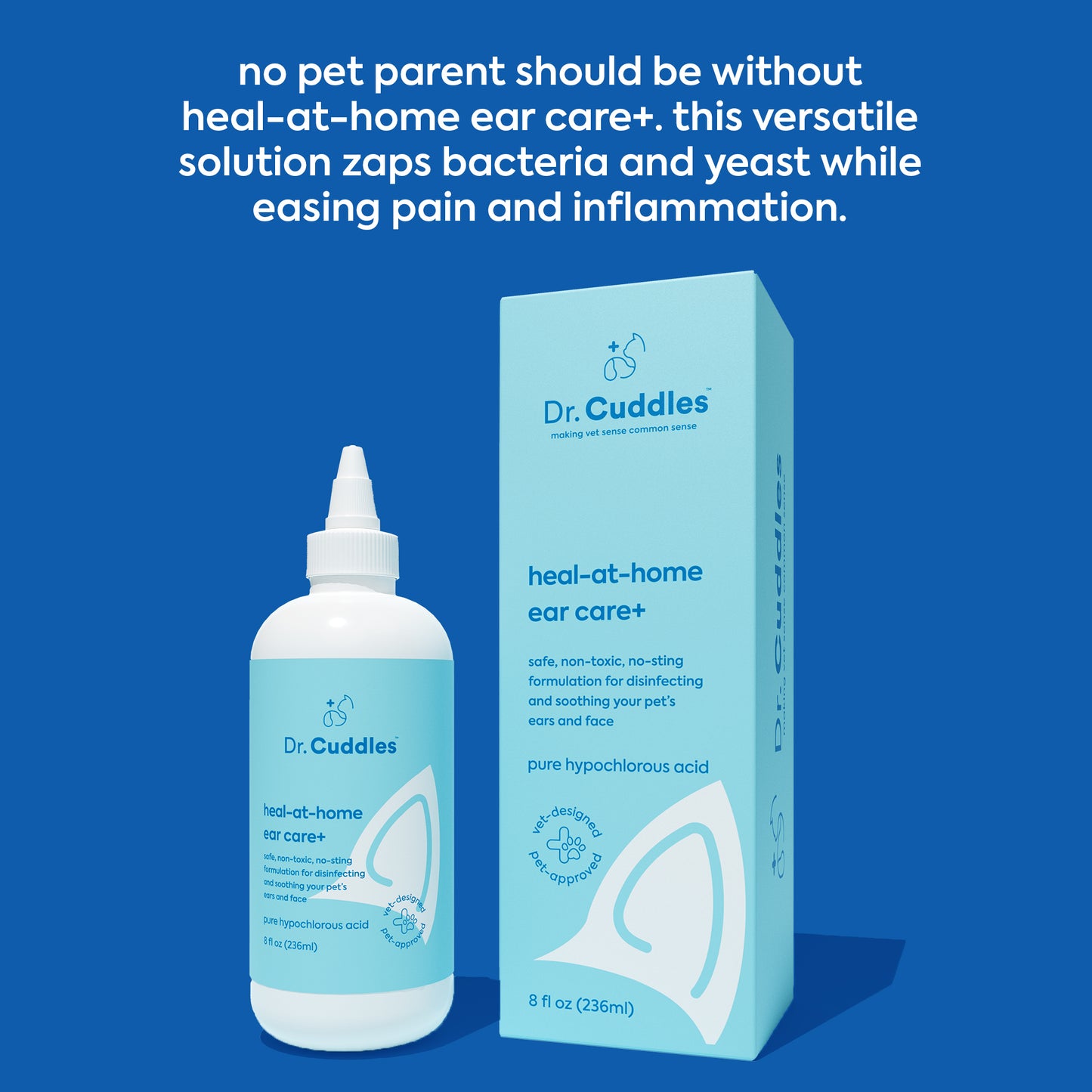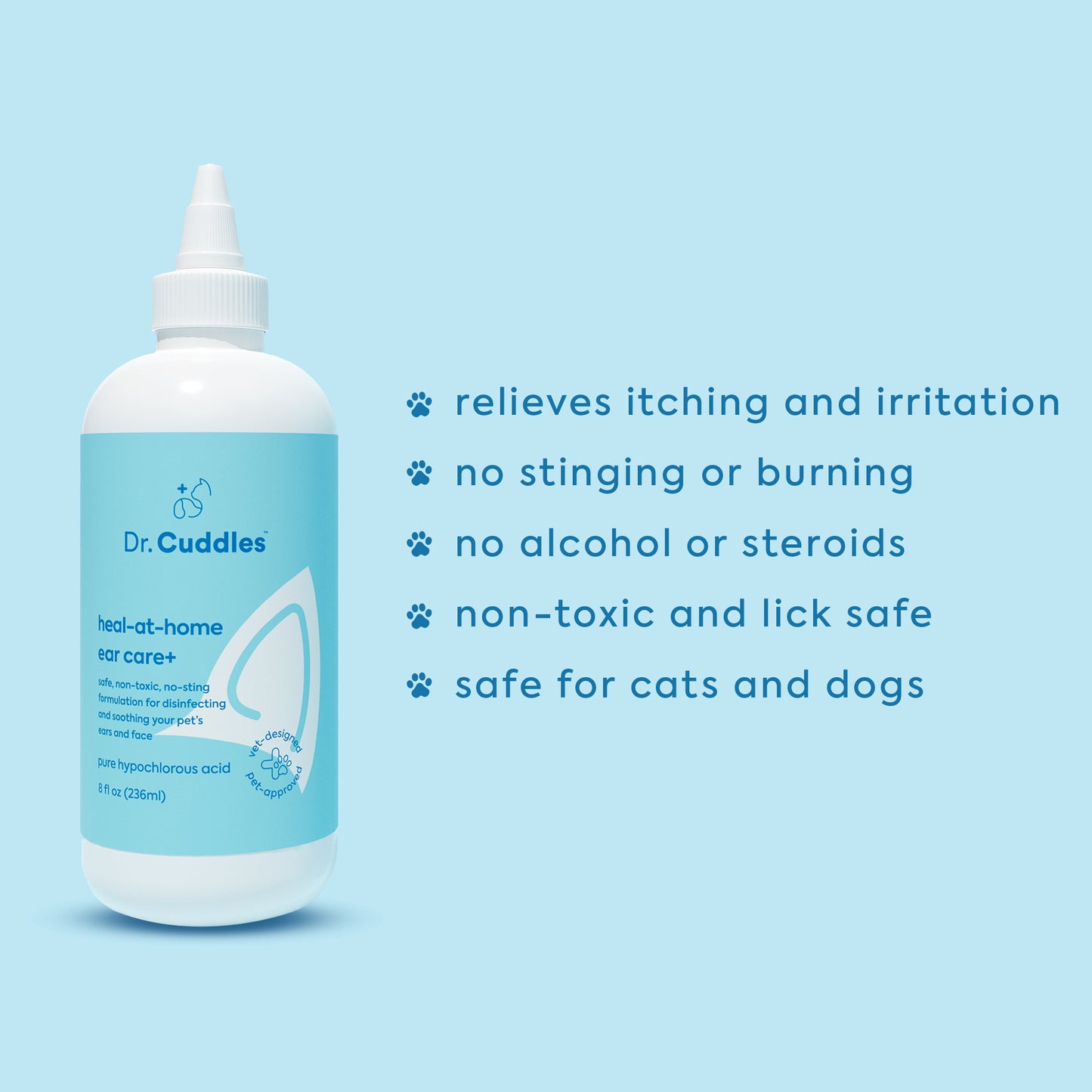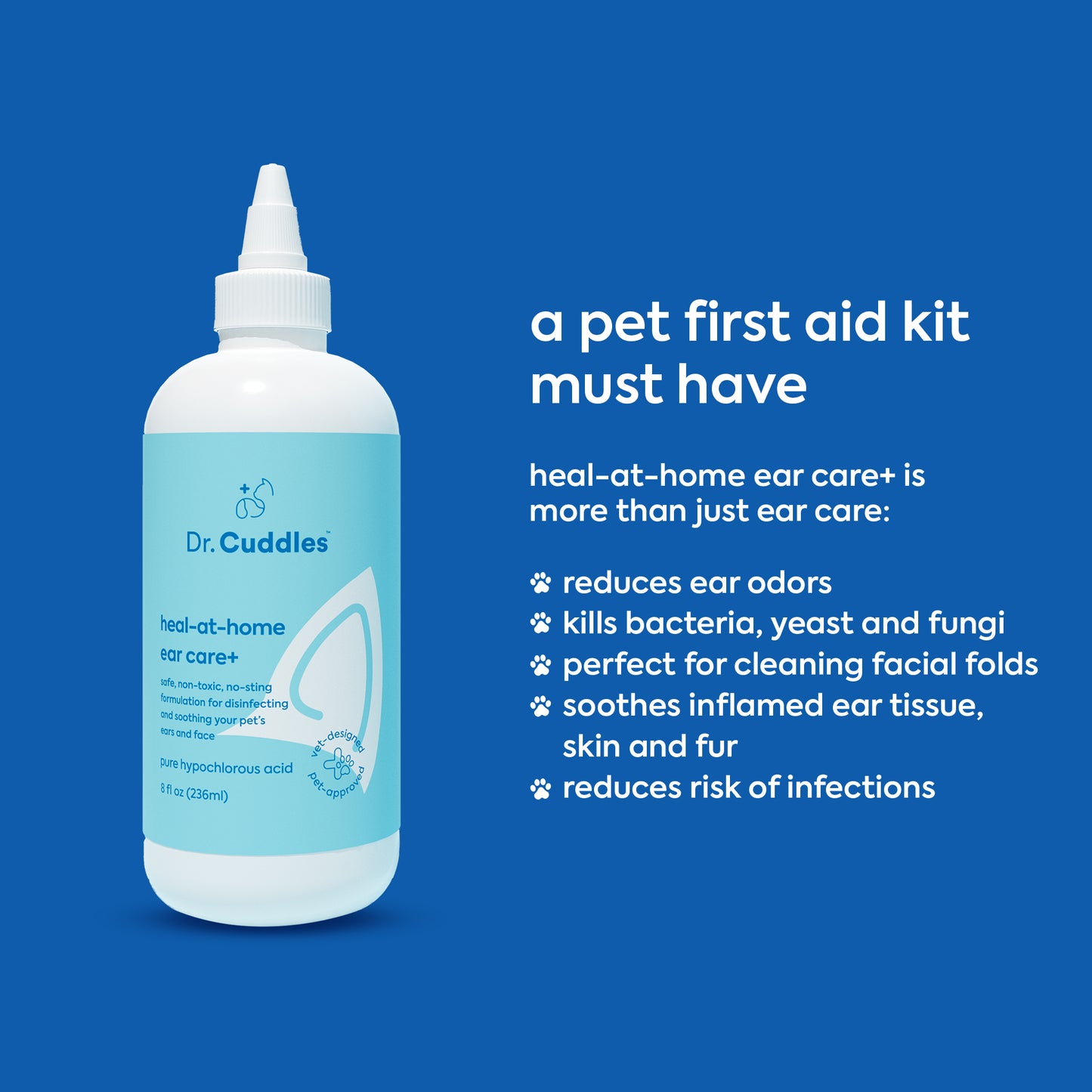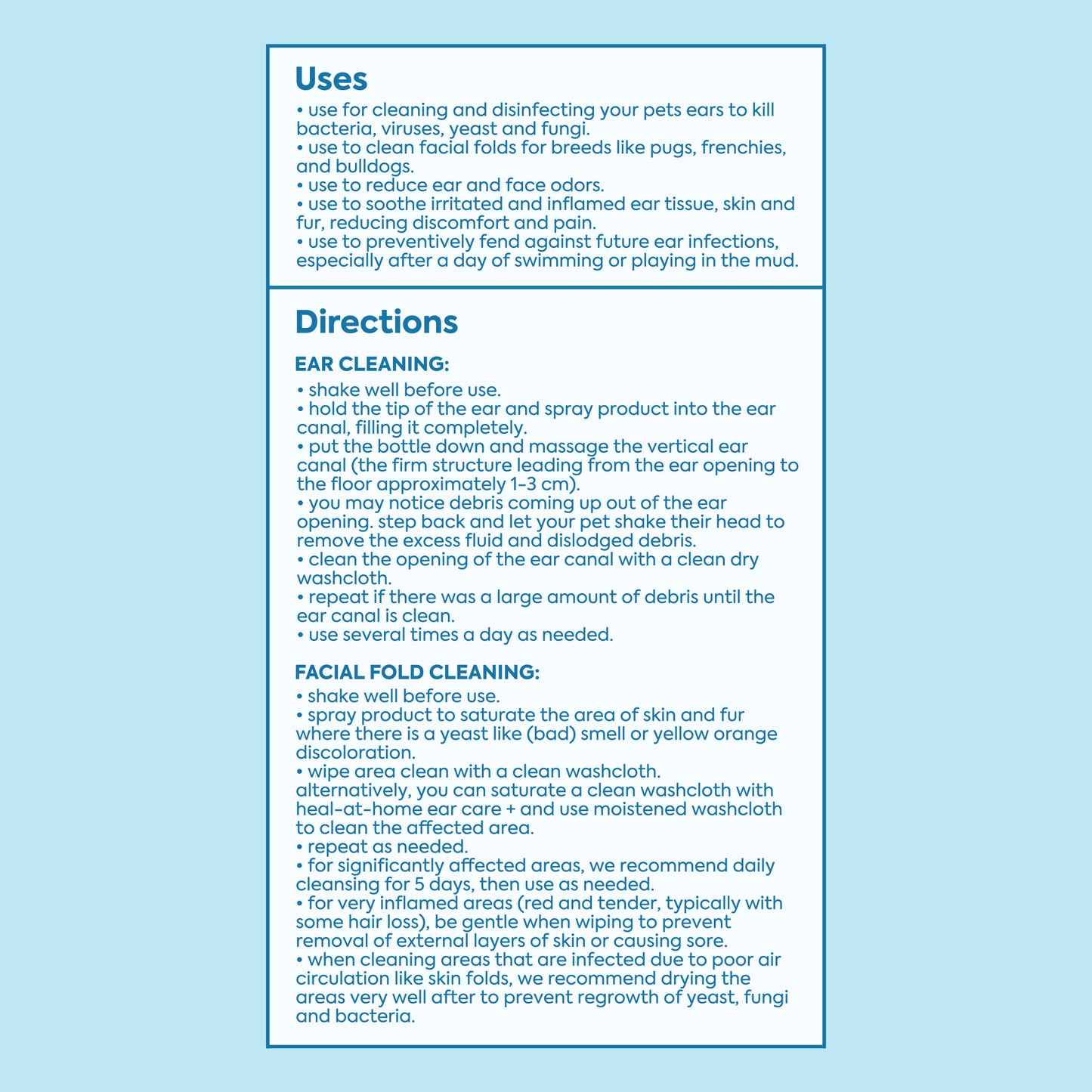 FAQ
Heal-at-home ear care+ is a natural, safe ear flush for dogs and cats, using the power of hypochlorous acid to clean, soothe, and protect your pet's ears.
Hypochlorous acid has powerful antimicrobial properties, which help combat harmful bacteria, yeast, and fungi. It also has anti-inflammatory properties, which can help soothe irritated or inflamed ears.
Unless otherwise directed by your vet, you can use the ear flush 2 times daily for cleaning, or more often if your pet has a current ear infection or other inflammatory issue.
Yes, our Heal-at-home ear care+ is suitable and safe for both cats and dogs.
The formula is designed to be gentle on your pet's ears. However, if you notice any signs of discomfort, please stop using the product and consult with your vet.
Yes, the ingredients in Heal-at-home ear care+ are non-toxic. But remember, it's designed for external use only. If your pet ingests a large quantity, consult your vet.
If your pet's condition worsens or doesn't improve after a few days, discontinue use and seek immediate veterinary care.
Absolutely! Regular use of the Heal-at-home ear care+ can help keep your pet's ears clean and reduce the risk of infections. This is especially true after activities or exercises (such as swimming in ponds or getting super muddy) that historically have pre-existed an ear infection.
While it's generally safe to use with other medications, we would recommend that the ear flush be used before any medications are applied that are meant to stay in the ear canal to exert their effect (e.g., antibiotics or steroids).
Heal-at-home ear care+ is good for three years after the manufacturing date. Please refer to the packaging for the specific expiration date. It's important to store the product as directed to maintain its effectiveness. Importantly, should the product be expired there is no concerns for it transforming into a dangerous substance. Expired solution will have less than the desired concentration of active ingredient.