Skip to product information
Media gallery

Media gallery

Media gallery

Media gallery

Media gallery

Media gallery

Media gallery

Media gallery

Media gallery

Media gallery
Heal-at-home eye flush
This non-stinging, gentle formula brings comfort and clarity to your pet's precious peepers! From debris to redness, our pH-balanced Hypochlorous acid solution safely soothes and disinfects their eyes. Perfect for allergy-prone pals, Heal-at-home eye flush will have them seeing the world in high-definition in no time!

🐾 non-toxic and lick safe
🐾 soothing
🐾 fast acting
🐾 no stinging or burning
🐾 antimicrobial
🐾 no alcohol or steroids
🐾 safe for cats and dogs

Regular price

Sale price

$24.00

Unit price

per
Description

The only one who will love our Heal-at-home eye flush more than you is your pet. This non-stinging, gentle formula brings comfort and clarity to your pet's eyes, no matter the cause. Our hypochlorous acid solution is designed to gently and thoroughly clean the eyes and surrounding area, banishing bacteria, dirt, mucus and anything else that has built up from playtime past times to nap time nuzzles. No burning, no toxins, and no discomfort—just a cost-effective solution that could save you a trip to the vet, or at least keep your pet comfortable before your next visit. Used for preventative and reactive care, all pet parents should have this handy for their four-legged friend.
Ingredients

Electrolyzed Water, Sodium Chloride, Hypochlorous Acid 0.01%, Phosphates, Sodium Hypochlorite
Uses

• use for cleaning and disinfecting your pet's eyes and surrounding tissues
• use to remove dirt, debris, discharge, chlorine and soothe irritated or painful eyes
• use to clean tear stains to leave the fur surrounding the eye clean and free of the yeast and bacteria that lead to discoloration.
• use to control issues caused by allergies, mucous, pollen, dust and other irritants
• use to treat pink eye or conjunctivitis

Directions

• shake well before use
• adjust dropper nozzle flow
• use non-dominant hand to hold the eye open, while you flush the affected eye gently with Heal-at-home eye flush.
• flushing can be repeated 3-4 times per day to maintain comfort, remove the debris, or until the inciting condition is no longer visible.
• wipe the excess flush away from the area around the eye, do not wipe the eye itself.
• given gentle nature, no rinsing is necessary.
• for tear staining, apply liberally to the affected area and wipe with a gentle wash cloth (alternatively apply liberally to cloth and wipe the affected area).
• continue to wipe gently until staining or mucus is gone or greatly reduced.
• repeat 2 times per day until fur discoloration has returned to normal.
• use for severely damaged corneas should be under veterinary supervision.

Warnings

FOR EXTERNAL USE ONLY
• For animal use only. Not for human use.
• If condition persists or worsens for longer than 7 days, contact your veterinarian .
• Discontinue use if irritation develops.
KEEP OUT OF REACH OF CHILDREN.
If swallowed by child, get medical help or contact poison control centers immediately.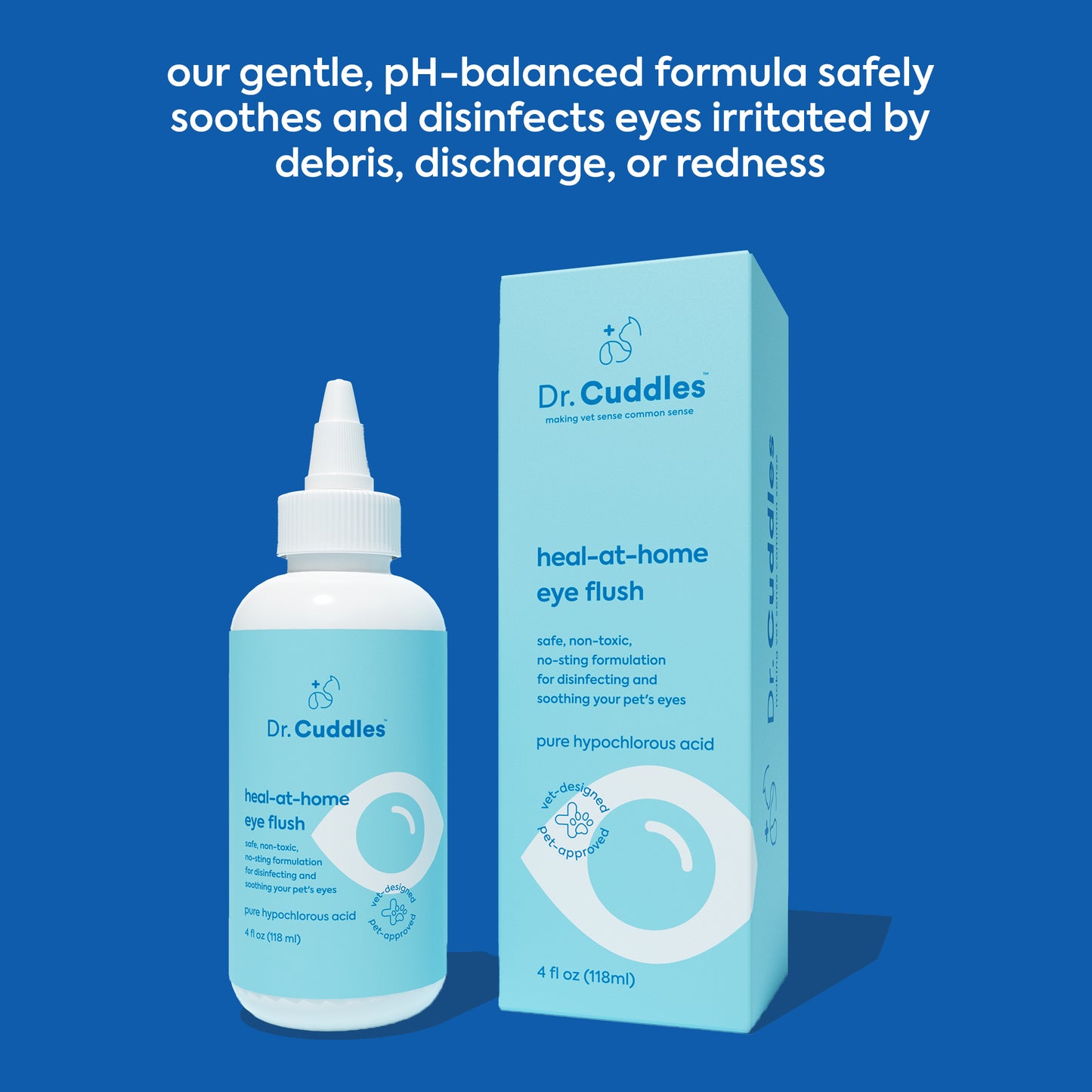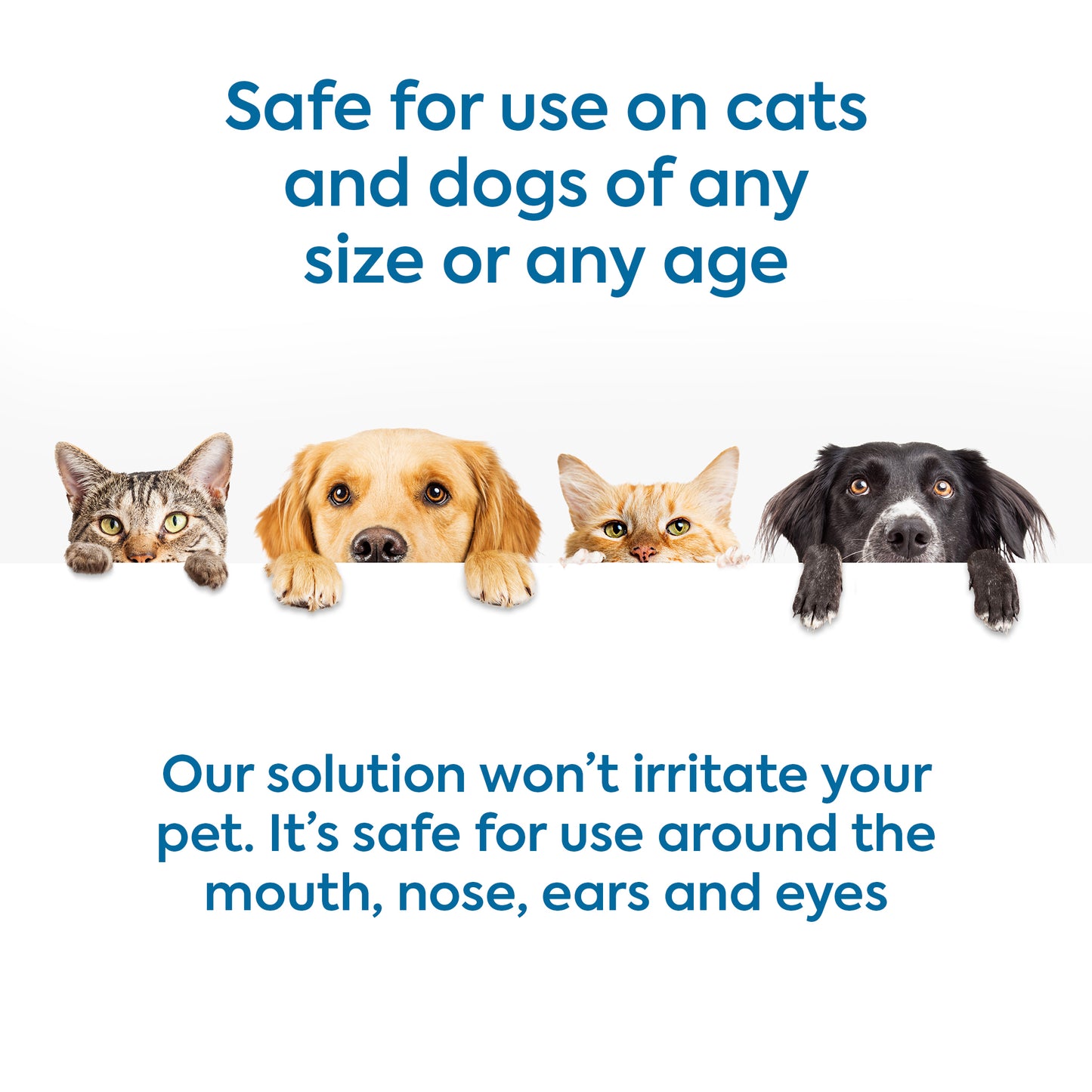 FAQ
Hypochlorous acid is a weak acid that occurs naturally in our bodies' immune system. It's used in many medical applications due to its powerful antimicrobial and anti-inflammatory properties, and it's safe to use on pets.
The hypochlorous acid in the eye flush effectively cleans the eye and surrounding tissue by gently removing foreign bodies and debris, reducing inflammation, and fighting off harmful bacteria, yeast, fungi and viruses, aiding in the healing process.
Yes, Heal-at-home eye flush is safe and effective for use on both dogs and cats.
The eye flush is designed to be gentle and non-irritating. However, if your pet shows any signs of discomfort, please discontinue use and consult a vet.
Unless otherwise directed by a vet, you can use the eye flush up to 5 times daily until the issue is resolved or until you are able to get veterinary care.
While primarily designed for treating eye issues, the eye flush can also be used as a preventative measure, particularly in breeds prone to eye problems or around events that typically might cause eye irritation (such as swimming in swimming pools).
Yes, the ingredients in the eye flush are non-toxic. However, it's intended for external use only. If ingested in large quantities, please consult your vet.
If your pet's condition doesn't improve or worsens after using the eye flush, discontinue use and seek immediate veterinary care.
Like most products, Heal-at-home eye flush has an expiration date (which is 3 years from the manufacture date). Please refer to the packaging for the specific date. Importantly, should the product be expired there is no concerns for it transforming into a dangerous substance. Expired solution will have less than the desired concentration of active ingredient.
While Heal-at-home eye flush is typically safe to use with other medications, it's always best to consult your vet before doing so to avoid potential interactions. In general you should not use this medication after an ointment or other medication is put in the eye as it will effectively wash out the treatment. Use before instilling medication is safe however.